Warmer weather is around the corner, and that's often the cue to start performing vehicle maintenance. AMSOIL product guides are the easiest way to find all the right products you'll need to get your vehicles and equipment ready for the year ahead.
Select your vehicle's year, make and model and the AMSOIL Product Guide will find the best product recommendations based on your selection.
Complete Oil Change
AMSOIL product guides offer an easy way to purchase a full kit with the correct amount of oil and filter needed for a complete oil c hange on your selected vehicle or equipment.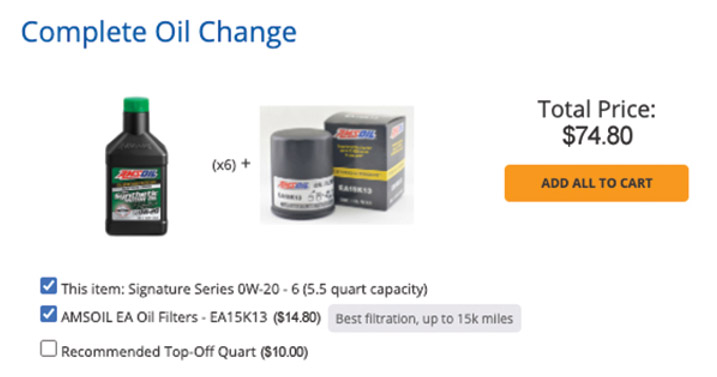 More than Just Motor Oil
While an oil change is often the only regular vehicle maintenance performed, other fluids and components also require attention for vehicles to perform at a high level. Remember to take care of your drivetrain, fuel system and other components as you start performing vehicle maintenance this year.
AMSOIL product guides provide recommendations for every vehicle component that requires lubrication, as well as recommendations for filters, fuel additives, cleaners and other preventive maintenance products.
Auto/Light Trucks
Motorcycles
ATVs
UTVs
Snowmobiles
Marine Outboards
Personal Watercraft
Small Engines
Heavy-Duty Commercial Vehicles