Anyone can establish a free MyAMSOILGarage account by clicking www.amsoil.com/whymygarage.aspx. Simply enter a valid email address and password, and click "create" to establish the account.
Users can track maintenance for an unlimited number of vehicles and other equipment, including motorcycles, ATVs, heavy-duty vehicles and more. The system is versatile enough to track any maintenance service imaginable, even services for which users are not currently using AMSOIL products. Users can also establish email service reminders.
One of the most convenient and valuable functions of MyAMSOILGarage is to store customers' vehicle information for simple and quick product recommendations and ordering. It eliminates the need to remember vehicle make, model and engine size, and then manually navigate the Auto/Light-Truck Lookup Guide.
MyAMSOILGarage Overview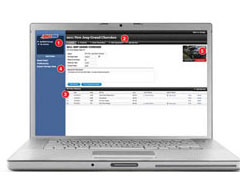 The navigation tree provides maximum versatility, neatly organizing a few vehicles or a few hundred.
Information for the selected vehicle is categorized under separate tabs. View AMSOIL product recommendations, manage email maintenance service reminders or add a new maintenance service.
The Service History menu lists all maintenance services performed by date and mileage. The "Add to Cart" icon allows for easy online ordering of the AMSOIL products used for that service.
Maintenance records can be exported into an Excel spreadsheet for use when selling the vehicle.
Users can upload a picture of the vehicle.