It'd be tough to find someone in the state of Michigan who's more dedicated to snowmobiling than Tom Holzwarth, of Mio, Mich. The machine-shop owner and AMSOIL Dealer was named 2016 Snowmobiler of the Year in the Wolverine State; he aspires to induction into the Snowmobile Hall of Fame, in St. Germain, Wis.; and he and his wife are in charge of snow grooming in his county.
Lifelong love of snowmobiling
"I've been around snowmobiling my whole life," said Holzwarth. "I bought my first brand-new Polaris* in 1983, and I've just been a Polaris guy ever since." In 2000, he bought an XCR800 due to its unique triple motor, which uses three cylinders. "It was supposed to be the hottest thing on snow, and it was pretty good back in its day," he said.
After initially using the manufacturer's oil, he switched to AMSOIL INTERCEPTOR Synthetic 2-Stroke Oil (AIT) when the sled had about 2,000 miles (3,200 km) on it. Today, the sled has accumulated 35,400 miles (56,970 km) with no engine trouble. In fact, the engine has never been taken apart.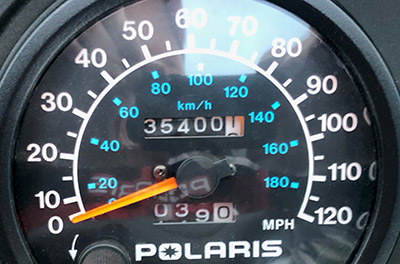 No engine problems after 20 years
"You always see people get to 4,000-5,000 miles (6,400-8,000 km) and say, 'I have to put new rings in or put in a new top end.' I've never had to do it," said Holzwarth. The water pump is the only component on his sled that has required work following 20 years of riding.
Holzwarth typically rides the vast trail network in the northern region of Michigan's lower peninsula. Occasionally, he trailers his sled to the Upper Peninsula. He'll put a couple thousand miles on his sled a season if conditions warrant. "A normal trip when we go riding for the day will be anywhere from 150-200 miles (240-320 km) a day," he said.
Holzwarth admits he's not as hard on the sled as he used to be, owing to having "gotten a little smarter" over the years. But he'll still stretch it out on a long straightaway on occasion. He also likes to hit the local grass air strip to drag race against friends sometimes. "I've had the speedometer buried on it when I was younger." His XCR800 tops out at 120 mph (193 km/h).
Holzwarth's "meticulous" maintenance regimen includes pulling and cleaning the exhaust power valves every 500 miles (800 km). They never show signs of sticking and they appear cleaner than they did using the manufacturer's oil. "When I was using the Polaris oil, I noticed a difference when I went to INTERCEPTOR; they weren't as dirty," said Holzwarth.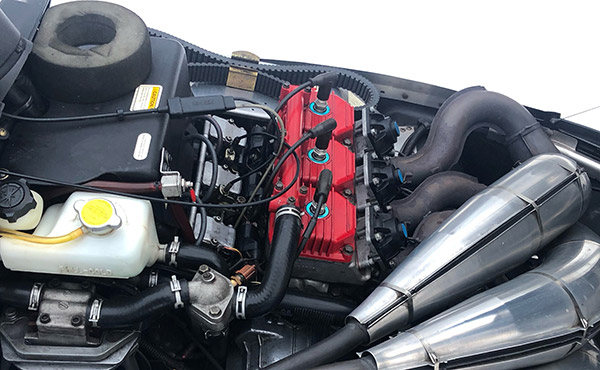 Local snowmobiling celebrity
The remarkable condition of Holzwarth's Polaris has made him something of a local celebrity. He stopped by the dealership recently, and the owner introduced him to someone as "the guy with 35,000 miles on his sled." The dealer also maintains a compilation of customers' success stories as a marketing tool. He included Holzwarth's picture after he hit 10,000 miles, 20,000 miles and again after 30,000 miles. "The snow hasn't been as good this year, because I was going to push it hard to go past 40,000 miles," Holzwarth said.
He uses his sled as a sales tool for AMSOIL products. "AMSOIL is the finest out there, in my opinion. I think it's proven itself just by looking at my snowmobile and how well it still runs."
Not only that, but his wife's 2004 Polaris has amassed 20,000 miles (32,200 km) with no engine problems, while his son's sled currently has 10,000 trouble-free miles (16,000 km). Both use INTERCEPTOR.
"You're talking 65,000 miles with no engine problems between all three sleds," said Holzwarth. "They just keep going."
*All trademarked names and images are the property of their respective owners and may be registered marks in some countries. No affiliation or endorsement claim, express or implied, is made by their use.