Let's look at 5W-20 vs 5W-30 first. Then we'll look at 5W-30 vs 10W-30.
The primary difference between 5W-20 vs 5W-30 is their viscosity once your engine has reached operating temperature.
Notice the different numbers in the viscosity ratings: "5W" and either "20" or "30". The first number (5W) refers to the oil's viscosity when cold, measured at 40°C (104°F).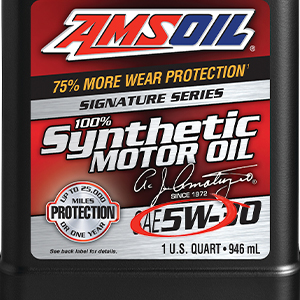 5W-20 & 5W-30 vs 10W-30: The 5W Oils Flow Faster In Cold Weather
It helps to think of the "W" as standing for "winter." Lower numbers mean the oil will remain more fluid and easier to circulate throughout your engine for improved start-up protection.
That being the case, when comparing 5W-20 or 5W-30 vs 10W-30, the 5W oils will flow faster in cold weather, as indicated by their lower 5W rating.
This means the oil will flow more readily to lubricate the cam lobes, piston rings, cylinders, bearings and other vital components at startup. The sooner the oil reaches these components, the sooner it can protect against wear.
Oil that's too thick can cause precious seconds to pass when little-to-no oil is available to lubricate parts, resulting in wear.
It's especially important in sub-zero weather when oil naturally thickens. Synthetic oils remain more fluid in cold weather for better protection than their conventional counterparts. Check out this post for more about the differences between synthetic and conventional oil.