Call it what you want – flea market, yard sale, tag sale or rummage sale – the time-honored tradition of perusing the wares of others is an American tradition. Growing up, I like many in the Midwest, spent many weekends with my family going what we'd call "rummaging." We'd search the local papers, find our must-stop locations and spend hours looking to score a deal on items needed or not. Walking into the Spring Carlisle Car Show, I thought I was prepared. I was a veteran, a haggle warrior who could spot a deal from a hundred paces away. How wrong I was!
For Carlisle Event's Spring and Fall Car Shows, held in late April and early October, the 150 acres of the Carlisle Fairgrounds are transformed to accommodate 8,100 vending spaces.
Items for sale range from vehicle parts of all makes and models to vehicle accessories, vintage toys, memorabilia, food and so much more. You name it, you can probably find it here.
Both Spring and Fall Carlisle Car Shows also feature the sale of more than 2,000 cars, including a classic-car auction presented by Carlisle Auctions. If you were looking for a place to buy that classic build you've always wanted at a good price, this event is for you.
This year I was lucky enough to attend my first Spring Carlisle Car Show April 22-23, 2022. I was blown away by the scale of the event. Over two days I compiled a few tips and tricks to help newbies such as myself navigate.
Carlisle Car Show Tips & Tricks
1) Bring A Good Pair Of Walking Shoes
The number one thing I recommend bringing with you to the Spring or Fall Carlisle Car Show is a good set of walking shoes.
With 150 acres and 15 miles of paved paths to cover, you're going to be doing a lot of walking. On my first day, I hit 10,000 steps with ease. However, if you have mobility concerns, Carlisle Events does offer scooter rentals.
Both events run Thursday – Sunday, so there is ample time to pace yourself. Thursday and Friday are traditionally the busiest days, but I guarantee you'll still find treasures on the weekend.
2) Bring Something (Or Someone) To Carry Your Goods.
That must-have item may be bulky or heavy. Many attendees bring wagons or rolling carts to maximize their carrying capacity. If you didn't think to bring one with you, Carlisle also has handcarts available for rent. They also provide free parts hauling and forklift availability, though a donation is recommended.
3) Arrive Hungry
Carlisle Car Shows have ample fair-style food vendors across the grounds with something for everyone's taste. From cheesesteaks (I mean, you're only about an hour or so from Philadelphia), to ice cream, to one of the best venison sausages I've ever tasted, you won't go hungry. You may even run into a local organization like a local sports team working one of these booths to raise money. Eating fried food for a cause? Sign me up.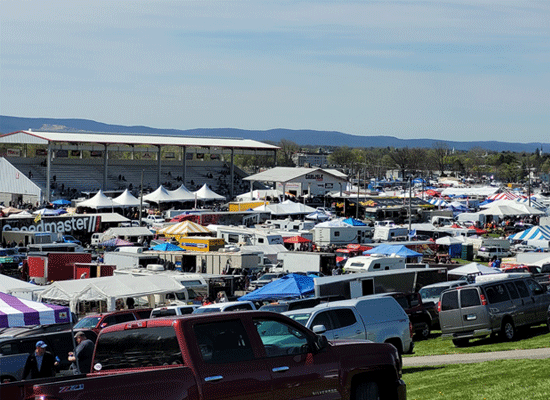 4) Be Prepared For Some Traffic
Carlisle works hard to accommodate the thousands of attendees at each of its events. There are more than seven gates with ample parking near each one, but be prepared when arriving and leaving to sit in traffic for a mile or two before you reach your next destination.
The upside? Carlisle is a beautiful, historic town with plenty of historic buildings to look at while you wait. You may also want to check out a local restaurant or other area attraction while in the area.
My last piece of advice if you are new to the Spring or Fall Carlisle Car Show? Enjoy it. You're in the company of thousands of like-minded people who enjoy "rummaging" and the thrill of the hunt for that one item you can't live without.
AMSOIL is the Official Oil of Carlisle Events. You can find our booth centrally located by the grandstand on the Manufacture's Midway where you'll have the opportunity to browse our products, talk to our knowledgeable Dealers and learn more about or products. See the full schedule of Carlisle Events here.