When you think of artists, do chainsaws come to mind? More than likely the answer is no. But bringing art to life can take on many forms, many of them unconventional.
We found that to be the case with Soderlund's Wood Mill, a family owned and operated business run by brothers Jason and Josh Soderlund. Their company crafts masterpieces out of timber grown in northern Minnesota. What started as a hobby has become a full-fledged operation offering custom furniture, signage and breathtaking sculptures.
We caught up with Josh Soderlund, one of the brothers who helped turn their craft into a company. Josh runs the business aspect of daily operations, while chainsaw artist Jason Soderlund brings the artistic eye. We wanted to know how their process works and the benefits they've experienced using AMSOIL products in their equipment.
How long have you been a chainsaw artist? How did you get started?
"Jason started carving in 2004 after attending a large carving event in Illinois. After several years of trial and error with a few pointers from other carvers, he apprenticed under master carver A.J. Lutter of Brainerd, Minn.
"The current form of the business started in West Yellowstone, Mont., under the name of 'Soderlund Custom Sculpture.' It was seasonal and we focused primarily on carvings for the first two years. As time went on and our business grew, we started to incorporate log furniture and custom signage. Soderlund's Wood Mill incorporated four years ago and now offers all types of chainsaw sculptures, log furniture (specializing in log swings) and carved signage."
What are some of the common issues you face when undertaking a project?
"If the carving will have a strange shape – a wolf on all fours for instance – finding just the right log that is free of blemishes in all the right spots can be a challenge.
"Another challenge (that can also be very rewarding) is working through the design process with our customers. Sharing a mutual vision for each custom carving with our customers is very important.
"Also, the winter! Carving outside in Minnesota winter weather is a true challenge. Electric chainsaws just don't "cut it" in cold temps like gas-powered, for many reasons."
How long does it take to complete a project?
"Generally, an average-sized piece (3'-6' tall) will be rough-carved with a chainsaw and then left to dry for 3-4 weeks. After the piece has dried enough to accept detail sanding and finish, the process is completed. Including drying time, a piece can generally be done in four weeks."
What is your most memorable project?
"We finished a carving in 2016 that I will never forget. It was a full-sized grizzly bear on all fours carved from 13 pieces of wood fastened together to accommodate for the size of the bear. It was a difficult and long process to completion, but it is also fun to tackle huge carvings now and then."
What types of equipment do you use to get the end result?
"I start with either a Stihl MS441 or a Husqvarna 395xp. These are used for the first cuts that form the initial block shape of the carving. As the carving starts to emerge, I usually switch to the Husqvarna 346xp and then finish with a Stihl MS200.
"After the chainsaw portion has been completed, we use a variety of die grinders and sanders to prep for the final coats of finish. It's similar to a golf bag in the way that each saw serves a unique purpose. Some get used a lot, while others are used only for specific or odd purposes. For all other cutting activities around the shop and for the log furniture portion of the business we use a Stihl MS261."
Did you have any issues before using AMSOIL products?
"Conventional two-stroke oils produce a large amount of smoke, and exhaust ports were constantly being plugged with conventional oil. There was a reduction in power due to running rich, along with spark plugs fouling."
How did AMSOIL help solve them?
"When carving we tend to hold the saw much higher than what is typical. This means we get blasted with exhaust fumes.
"After switching to AMSOIL SABER Professional Synthetic 2-Stroke Oil, the fumes were greatly decreased. Prior to using synthetic two-stroke oil, we were cleaning the ports on the exhaust manifold regularly. Since switching, we have not cleaned them.
"We typically run our saws rich because of the nature of carving. Much of what we cut, especially with the small saws, does not put much load on the saw and increases the likelihood of over-revving. Since switching we can run the saw a little richer without seeing much, if any, reduction in power. We do not have to run platinum plugs, and we have not replaced a chainsaw spark plug in several years."
How does your equipment run now?
"Our saws get used daily and many of them have very high hours. There are many carvers who go through saws yearly. Our big saws are over five years old and the smaller saws are all four-plus years old, with countless hours.
"Our 346xp should be in a museum as a testament to the longevity that can be achieved when a saw is taken care of. We have been very impressed with how many hours we have been able to get out of these little two-stroke motors. We believe this is in large part because we do not use gas containing ethanol, and use strictly AMSOIL synthetic two-stroke oil."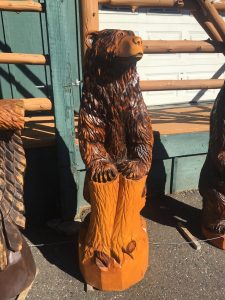 AMSOIL SABER Professional is recommended for any mix ratio up to 100:1. What mix ratio do you use?
"We mix at 80:1. We probably would be fine with the 100:1, but with the type of work we do and the lack of load during cutting, we just like to stay on the safe side and run them slightly rich."
Learn more about Soderlund's Wood Mill and the quality of work they offer here. If you're a chainsaw artist or use a chainsaw around your property, check out our 5 Expert Chainsaw Maintenance Tips to keep your saws running strong.