The Bonneville Salt Flats is a dry lakebed that is naturally built for speed. The region located about 100 miles west of Salt Lake City, Utah, is approximately five miles wide by 12 miles long and controlled by the U.S. Bureau of Land Management. The topography is level, making the flats the perfect space for breaking land speed records.
Since 1914 Bonneville has enticed thrill and glory seekers to test their mettle. Every August when the flats are dry, hundreds of racers make their way to Speed Week (Hosted by Southern California Timing Association and Bonneville Nationals Inc.) with one goal in mind – to break a land speed record in a specific category.
AMSOIL sponsored racer Scott Birdsall is looking forward to the challenge of setting a land speed record at the Bonneville Salt Flats. We caught up with Scott prior to the 2023 Bonneville Speed Week and discussed the event, how he prepares and what he's trying to accomplish.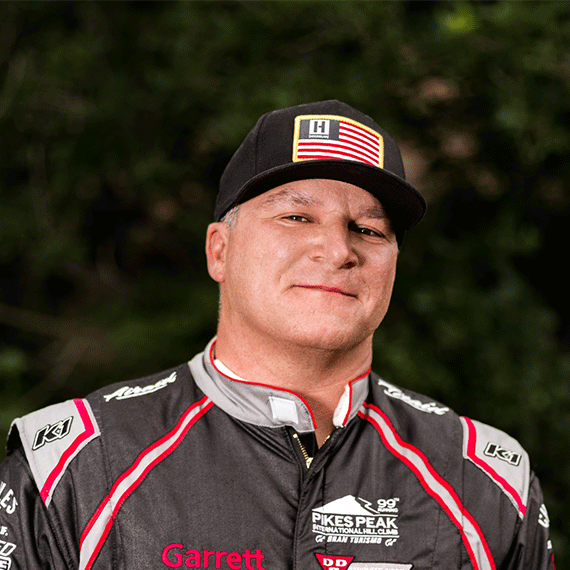 Q&A with Scott Birdsall
How is racing at Bonneville Speed Week different from other types of competition?
I've never raced Bonneville before! However, I've been following the racing there since I was a child. I've been a gearhead for as long as I can remember. Bonneville is a holy ground for hot-rodders and I've always wanted to put my name in the books with all of the legendary builders and drivers who have been there in the past. It's a must for me to go out and set a record at Bonneville.
What vehicle will you race at speed week?
I am racing a 1991 Toyota* extra cab pickup. It has a 2JZ-GTE engine that generates 1,300 horsepower. It has a livery similar to one of my racing heroes from that era — Ivan "Ironman" Stewart.
We used 90% of the stock chassis. The chassis is very well made and totally boxed from front to rear. The added cage makes the stock chassis so strong there was no need to do anything else with it.
What are you aiming to achieve at Speed Week?
I am looking to break the BMMP Blown Modified Mini Pickup record. The record for a 3.0-liter truck currently stands at 180+ mph. I'm looking to not only break that but break the all-out MMP record which is now 222 MPH.  My hope is to go around 240 mph. I need to set a record or I'm not happy [laughing].
How does it feel to go that fast?
It's weird, I get into a flow state, a peaceful "Zen" when I'm going fast. I think that's what I like about it, it feels good.
What kind of prep is needed for you and your vehicle?
For the vehicle — everything! This was a beat-up landscaping truck a month ago. We affectionately call it "The landspeedscaping truck." We had to build this from the ground up. We're working seven days a week to get it ready. We're adding a cage, a parachute, doing suspension work, adding bigger brakes, installing the ALC built engine, installing a sequential transmission, building a Garrett turbo system, all kinds of stuff.
As for me, I'm not sleeping. I am just working too much. I am dedicated, I try not to let deadlines evade me.
What are the pros and cons of racing an event like Speed Week?
The biggest reason to race is that if you can go out there and do good and set a record, you're in the record books until someone takes it from you.
A big con is that it's extremely hot, and I don't do well in the heat, which is why I'm renting an RV. Like Pikes Peak, the area is subject to rain and other inclement weather that can come up and tell you to go home. Conditions must be perfect and sometimes they don't allow you to race. You can prep all you want, but you're always at the mercy of the weather. Last year the salt was perfect, and everyone was set to run, then the rain came.
Which AMSOIL products do you rely on to get you through such challenging performance-oriented events?
I use methanol in the truck and the oil tends to wash past cylinder rings, so I need extra protection. I use AMSOIL DOMINTATOR® 10W-30 Racing Oil, DOMINATOR® DOT 4 Synthetic Racing Brake Fluid, Severe Gear® 75W-90 Gear Oil and Mudslinger® to keep the salt off the of it. I also use AMSOIL Glass Cleaner.
Methanol helps to cool the engine down and I use the Dominator oils for the extra scuff and heat protection. We need lots of oil because we change it every pass. The gear oil is good because it has excellent shock dampening properties.
What is your favorite thing about your partnership with AMSOIL?
The products from my title sponsor have to be good because I'm not going to use another type of lubricant in my vehicles. AMSOIL is the best of the best and the company is like a family — you're always supportive and so fun to work with!
1991 Toyota Pickup Land Speed Build*
Truck build: Scott Birdsall — Chuckles Garage
Engine build: ALC Racing Engines
Monitoring systems: Banks Power
Tuning: LS Fabrication

Horsepower: ~1,300 hp
Weight: 5,000 lbs
Fuel: Methanol, E85 or gasoline
Speed target: 240 mph
Engine: 3.0-liter 2JZ-GTE inline-six
Crankshaft: Brian Crower billet
Rods, cams, springs: Pro Series Stage 3+
Pistons: Carrillo forged
Main bearings: Rad Industries billet
Turbo: 88 mm Garrett G45-1500
Transmission: 6XD six-speed sequential
Fueling: Radium Engineering
Systems controller: Haltech
Gauges, loggers: iDash DataMonster
Fluid lines: Vibrant Performance
A-arms, steering: Stabfab
Suspension: Willwood spindles and custom four-link rear with Panhard bar
Lubrication: AMSOIL
Bonneville Speed Week
The Bonneville Speed Week 2023 event ran August 5 – 11, 2023.
Due to wet conditions this year, Scott Birdsall postponed racing this build.