The year was 2020, the swirling of COVID-19 was still in its infancy, little was known of what was to come. It also was the last time I made the trek to the mecca of Johnson Valley, California, for the "Burning Man of Off-Road Racing" aka King of the Hammers.
Well race fans, after a two-year hiatus, I am headed back. Ready for the dust, those epic desert skies and of course the carnage that comes with King of the Hammers.
Let's get a preview of what Team AMSOIL will be up to on the lakebed.
Each year, thousands of hardcore spectators and more than 400 competitors flood Johnson Valley to create the city affectionately known as "Hammertown."
King of the Hammers includes racing throughout the week, with the Mack Daddy of them all, the Nitto King of the Hammers, taking place Saturday, Feb. 11.
The event was conceived by a pair of racers in search of bragging rights and a case of beer. It combines desert racing and rock crawling throughout 200 miles of grueling trails. It's no wonder almost 80,000 people flood this otherwise deserted valley to witness all the havoc.
Kyle Chaney's journey to this year's KOH started back in September. Fresh off his World Championship win in Crandon, Chaney made the trek to Johnson Valley to test his 4400 and 4900 prior to next month's races. Hopefully giving himself the time to prerun this year, Chaney will be competing in three races throughout Hammer's week, looking for a three-peat in this year's Can-Am UTV Hammers Championship.
Chaney recently sat down with Tiffany Stone for an AMSOIL All-Access to talk about how he's prepping for this year's races.
Fresh off his induction in the the Off-Road Motorsports Hall of Fame, Brad Lovell looks to keep his legendary streak alive by competing in his Every Man Challenge. Having already won the Every Man crown a total of three times, this will be Lovell's 18th trip to the lakebed.
Historically Brad and his brother Roger have competed and won in their trusty Ford* Ranger,* but this year Brad will take on the desert in his new 4600 Bronco.*
King of the Hammers 2023 Event Schedule
Lovell and Chaney aren't the only members of Team AMSOIL slated to race next week. Here's a breakdown of where you can find them and the rest of the team:
Saturday & Sunday, Feb. 4 & 5 is the first race of the week with the Toyo Desert Challenge presented by Monster.
Tuesday, Feb. 7 Mountain Mafia regular Madie Moon will compete in the Holley EFI Shootout.
Thursday, Feb. 9 Bryce Menzies and Shannon Campbell will also be competing alongside Chaney in the UTV Championship.
Friday, Feb. 10 is the Every Man Challenge.
Saturday, Feb. 11 is the mack-daddy of them all, King of the Hammers. Two-time champ (and newest member of Team AMSOIL) Erik Miller will also line up with Chaney at the start.
AMSOIL will once again provide lubricants for all BFGoodrich* pit locations throughout the grounds. BFGoodrich offers complimentary pit support to racers competing exclusively on BFGoodrich tires.
The Garage is open to anyone attending the event, allowing space for both teams and enthusiasts to work on their vehicles with a complete complement of mechanic's tools.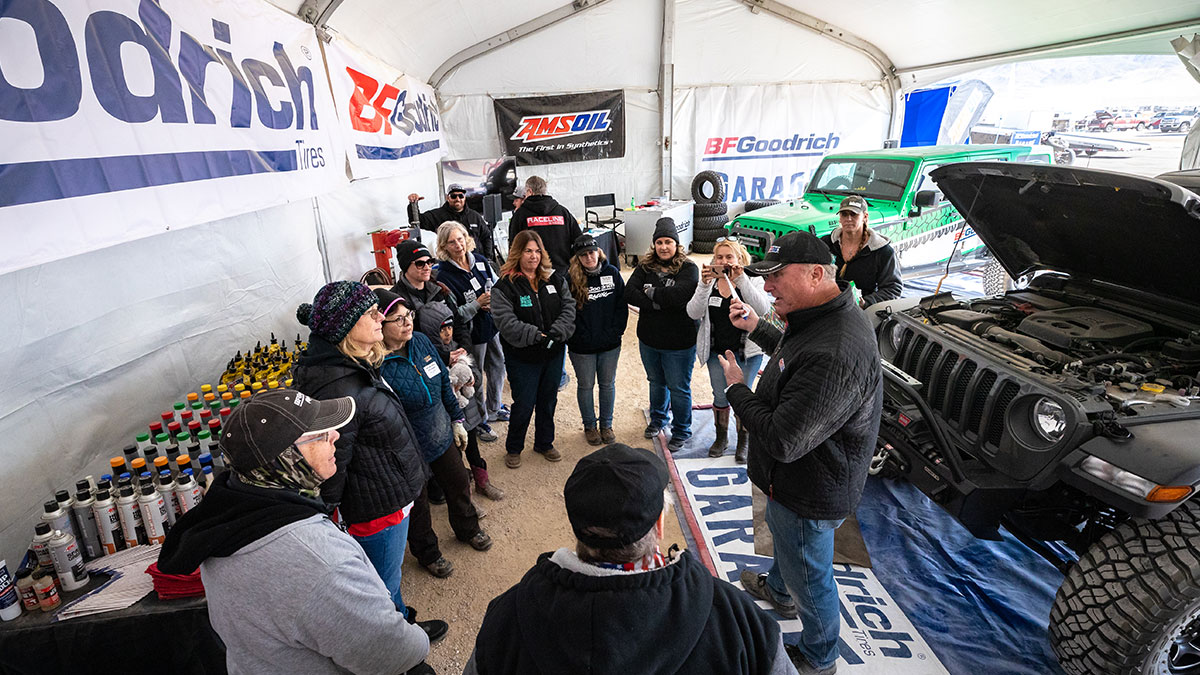 Be sure to follow AMSOIL to get daily updates and behind-the-scenes action from the lakebed, and don't forget to tune in to the livestream on race day.
We'll see you in Hammertown!