Winter is on the horizon and it's time to store your lawnmower and other lawn and garden equipment through the colder months. The following tips will help you maximize the life and performance of your lawnmower and ensure it springs quickly to life when you're ready to mow grass again.
Stabilize the gas
Gasoline can break down in as few as 30 days. Oxygen, humidity, heat and other factors cause gas to change over time. Varnish, gums and other debris may form, which can clog the tiny passages in fuel lines and injectors or stick the floats in carburetors, preventing the engine from starting in the spring.
AMSOIL Gasoline Stabilizer disrupts the chemical chain reaction that causes gas to oxidize and form varnish and gums. It keeps fuel fresh up to 12 months. As shown, it also fights corrosion and improves stability better than Sea Foam Motor Treatment*.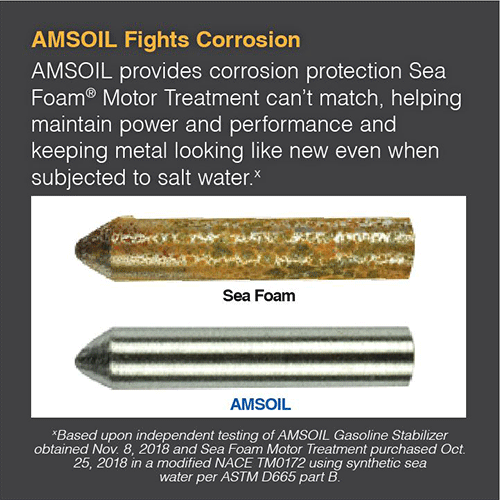 Clean or replace the spark plugs
The spark plugs in a well-maintained lawnmower should last for years. Even so, check the condition for excessive deposits or wear to the electrodes. Clean or replace any dirty plugs as needed. While you're at it, check the gaps and set them to the proper size, as indicated in the owner's manual.
Fog the engine
With the spark plug removed, spray fogging oil into the engine. It protects the cylinder, piston and valves from rust and dry-start-induced damage in the spring. Slowly pull the starter cord a few times to distribute the oil, then replace the plug.