At AMSOIL, we go the extra mile when it comes to product testing. In the case of our 2012 Harley-Davidson, we went 207,111 miles.
Since arriving at the AMSOIL mechanical lab in March 2015, the bike has been a fixture on the SuperFlow CycleDyn engine dynamometer. It has served as the proving grounds for several different motorcycle oil formulations. After several rounds of testing spanning more than two years, here are the highlights of the bike's eventful service life.
THE MOTORCYCLE
2012 Harley-Davidson FXDB Dyna* Street Bob*
1584-cc engine
THE TESTING
All totaled, 14 different tests were run using the Harley. Their purpose was typically to test candidate motorcycle oil formulations with the goal of constantly improving the final product available to customers.
To do that, AMSOIL engineers designed a 250-hour (about 14,000 miles) test designed to create a motorcycle oil's biggest enemy – heat. The computer-controlled engine dyno is programmed to hold the bike at a steady 55 mph, alternating between low-torque (25 ft. lbs.) and high-torque (57 ft. lbs.) conditions to simulate highway cruising punctuated by periods of hill climbing. A 25-hp fan directs air over the engine, simulating airflow at highway speeds.
Early on, engineers discovered that the rear cylinder was abnormally hot compared to the front. It turned out lack of airflow was to blame. When a rider is sitting on the bike, his or her legs deflect cooling air over the rear cylinder. To recreate this scenario, a metal shield was constructed that mimics the effect of someone sitting on the bike, resulting in accurate rear-cylinder temperatures.
After each test, the engine is disassembled and examined for wear, deposits, varnish and other distress. Each engine part is documented, photographed and archived. Then, to ensure accurate future test results, the engine is  reassembled using fresh parts for the next round of testing.
250-HOUR TEST BY THE NUMBERS
260ºF – Avg. Oil Temp
2,475 – Avg. rpm
383º – Avg. Rear Cylinder Head Temp.
266º – Avg. Front Cylinder Head Temp.
1,459º – Avg. Max. Exhaust Temp.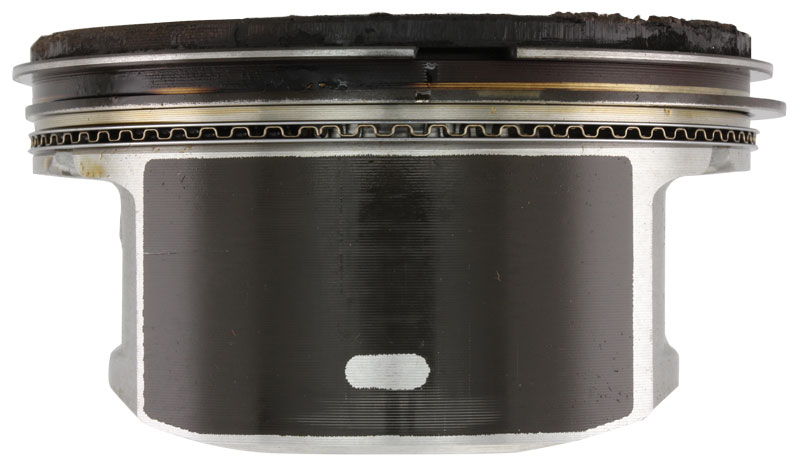 Just one of the 26 pistons run through the Harley.  After 250 hours in high-heat conditions, the skirt still looks great, with no scuffing or wear.
*All trademarked names and images are the property of their respective owners and may be registered marks in some countries. No affiliation or endorsement claim, express or implied, is made by their use. All products advertised here are developed by AMSOIL for use in the applications shown.