Two-stroke engines derive lubrication from the oil mixed directly into the gasoline, unlike your car engine, which lubricates itself with oil housed in an oil sump and circulated by an oil pump. Read more about the differences between two- and four-stroke engines.
Untangling different mix ratio recommendations and mixing multiple containers of fuel is a hassle, particularly for professionals who run several different pieces of equipment. What if there was one solution for different two-stroke oil mix ratios that worked in all your equipment?
The mix ratio is the proportion of gas to oil, expressed as a ratio. For example, 50:1 means 50 parts gas to 1 part oil.
Oil mix ratios explained
If your manufacturer recommends a 50:1 fuel/oil mix, it means you need 50 parts of gas to one part two-stroke oil. To mix one gallon of fuel at 50:1, add 2.6 ounces of two-stroke oil to one gallon of gas, as shown in the chart below. Don't worry, we're going to eliminate the need for a metric chart shortly.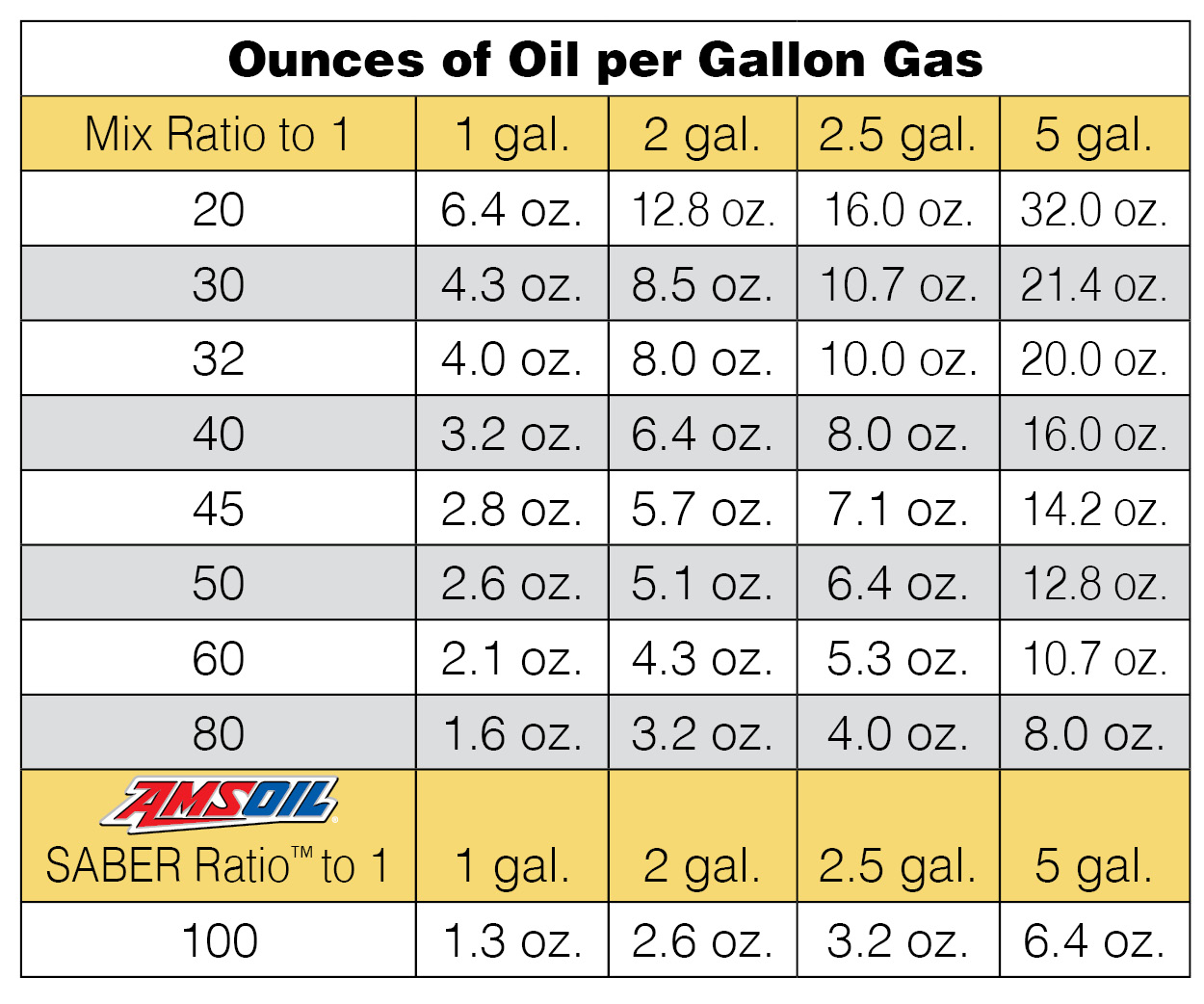 Different mix ratios create confusion
Different equipment manufacturers recommend different oil mix ratios, complicating matters. Most modern chainsaws, string trimmers, leaf blowers and other small-engine two-stroke equipment recommend a 50:1 oil mix ratio, but some recommend 40:1 and older two-stroke equipment might even call for 32:1. Multiple pieces of equipment with different mix ratios would traditionally require mixing and storing multiple cans of fuel. That's not only a hassle, but it's also a recipe for misapplication.
This scenario can be a big problem for landscapers and other professionals who operate multiple pieces of equipment under heavy use. But plenty of homeowners also maintain older equipment that call for a richer fuel mixture. It would be so much easier if every manufacturer recommended the same mix ratio…