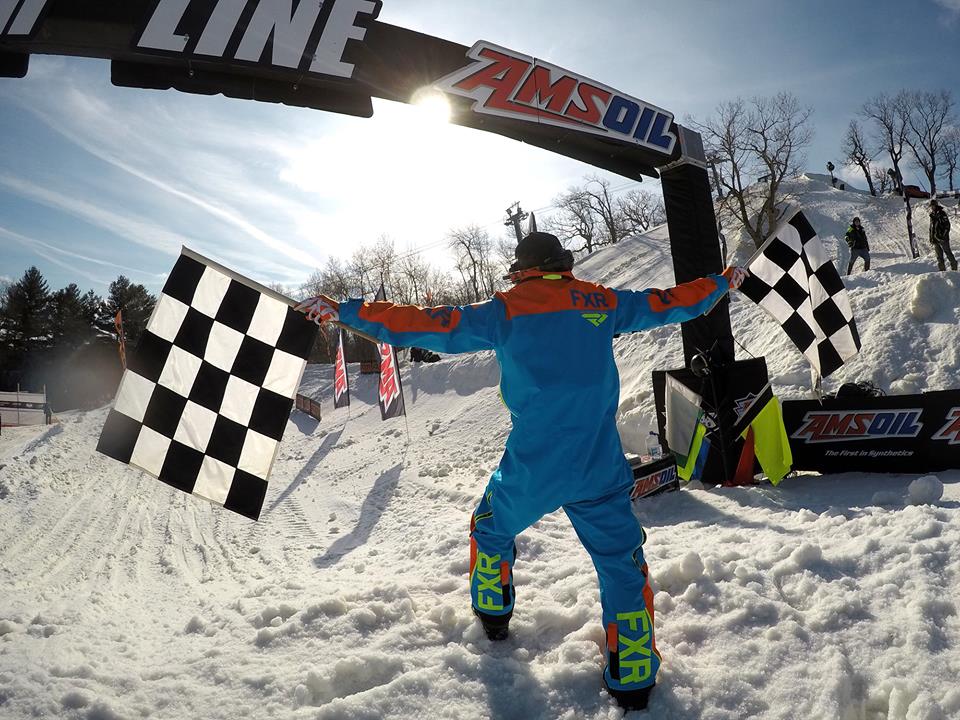 Happy New Year, race fans! How are you doing on your resolutions?
Every year I resolve to learn more about the wonderful world of motorsports. I didn't enter this world knowing everything. But, by asking the right questions, attending countless events and performing the occasional Google search, I have built extensive knowledge in the world I now call my 9-to-5.
One such area is flagging. Have you ever wondered what the different flags mean in racing? Fortunately, their meanings span multiple types of racing (motocross, snocross, auto, etc.). Below are the main flags you will see at an AMSOIL Championship Snocross race, the Indy 500 and many races in between.
Green Flag
This one's easy – race! Green indicates the start of the race. It also indicates a restart following a caution. You'll also see the green flag flying during normal racing conditions.
Yellow Flag
Caution! A yellow flag indicates a crash, debris on the track or another issue. You will typically see a yellow flag at the start of the caution zone and continuing to where the incident took place. No passing or jumping is allowed under yellow.
Red Flag
Stop! If you see a red flag on the track you must immediately stop and exit the track. This means either a rider is injured on the track and requires medical attention or track conditions do not allow the race to continue.
Blue Flag
Pick up the pace, pal! A blue flag means you are a lapped rider. You should move out of the way of racers lapping you.
Black Flag
Shape up! If you see a furled black flag (wrapped around the stick), consider it a warning. This indicates either an equipment failure or incident involving rider conduct (i.e. passing under a yellow flag). You should either proceed to the start to speak with an official or stop your offending activity immediately. A black flag on your first lap means you most likely jumped the start of the race. If this is the case you must fall to the back of the field. A black flag during racing means you most likely illegally gained position(s) somehow. If this is the case you must drop back at least three racers.
If you do not follow these rules, you will see an open black flag. This means immediate disqualification.
White Flag
One lap to go! When the white flag is flying you are on your last lap headed toward the checkers. This is considered a "courtesy flag" as riders enter their last lap.
Checkered Flag
Winner! If you're one of the first three to cross those checkers, head to the podium to collect your prize. If not, back to the pits for you. I should also note that a green-and-white checkered flag in NASCAR signifies the end of the stage.
Be sure to check out a recap of AMSOIL Championship Snocross racing from this past weekend below and see if you can spot the flags. And note Lincoln Lemieux taking those checkers!
Next up for Team AMSOIL is King of the Hammers. Be sure to tune into our social media channels to see our adventures from Hammertown, in Johnson Valley, Calif. We'll see you at the races!