AMSOIL snowmobile products deliver protection advanced enough to unleash the full power potential of any brand of snowmobile, including Polaris®, Ski-Doo®, Arctic Cat®, Yamaha® and more. Check out these guidelines for choosing the right oil for your sled. For more product recommendations, consult our Snowmobile Product Guide.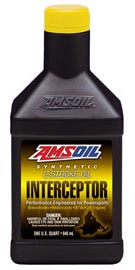 For hardcore riders who own newer, high-performance sleds and live for snowmobiling.
Prevents piston-ring sticking and piston scuffing
Fights exhaust-power-valve deposits
Outstanding cold-flow
To reduce emissions, modern two-stroke snowmobiles are designed to burn less oil without sacrificing power. This generates high heat, which can lead to piston-ring sticking, piston scuffing and exhaust-power-valve sticking if the oil isn't formulated to withstand the intense environment.
INTERCEPTOR offers the proven ability to prevent ring sticking, piston scuffing and exhaust-power-valve sticking in modern, high-performance sleds, helping you get the best performance and most years out of your snowmobile. It's also less expensive than most original equipment manufacturer (OEM)-branded oils.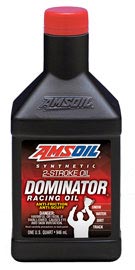 For racers, professional riders and owners of modified sleds.
Maximizes power
Burns cleanly
Outstanding piston and bearing protection
Racing and modified sleds generate intense heat and pressure. High heat can burn off light oils, while intense pressure can exceed the film strength of low-viscosity oils, inviting wear.
DOMINATOR is formulated with heavier base oils to protect bearings, pistons and other components from the rigors of high-performance riding. It's race-proven to protect against wear in the toughest riding conditions. DOMINATOR's emphasis on wear protection means it doesn't guard against power-valve sticking as well as INTERCEPTOR.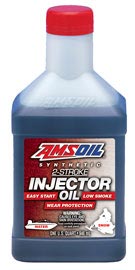 For casual riders and those seeking the convenience of one oil for year-round use.
Easy start
Low smoke
Excellent wear protection
Synthetic 2-Stroke Injector Oil is perfect if you don't necessarily want the superior performance of INTERCEPTOR or DOMINATOR. It offers the convenience of using only one oil for all your two-stroke powersports toys, including marine applications.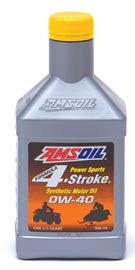 For owners of four-stroke snowmobiles.
Easy cold-weather starts
Quick startup protection
Helps prevent carbon/varnish formation
Cold temperatures can cause conventional oils to thicken, making them difficult to circulate until the engine warms up. Cold, thick oil may not reach components at startup, causing wear.
Formula 4-Stroke Power Sports Synthetic Motor Oil provides outstanding cold-flow properties. It eases cold starts and guards against wear at startup, helping extend engine life.
Check out these other great AMSOIL products for snowmobiles.

AMSOIL Synthetic Chaincase & Gear Oil
Extreme-pressure additives promote long chain and gear life
Inhibits rust and oxidation
Low-temperature fluidity ensures maximum energy efficiency
Lasts longer than conventional oils
Recommended for use in Arctic Cat® Diamond Drive gearcases
To reduce initial costs, some enthusiasts use automatic transmission fluid or gear lube in their chaincase or gearcase. Neither fluid, however, is engineered for these applications. Automatic transmission fluid is a hydraulic fluid formulated without the extreme-pressure additives needed to provide enhanced wear protection, leaving gears and chains vulnerable to wear. Automotive gear lube is designed to lubricate hypoid gears and is too thick for proper chain and gear lubrication in powersports applications, impairing circulation and leading to wear and decreased energy efficiency.
AMSOIL Synthetic Chaincase & Gear Oil is specifically engineered to meet the demands of enclosed chaincases and gearcases, providing extreme-pressure protection and low-temperature fluidity for superior performance and protection.

AMSOIL Quickshot®
Cleans fuel systems
Addresses ethanol-related performance issues
Stabilizes fuel
Degraded fuel presents a major maintenance issue in snowmobiles. It can form varnish, gum and insoluble debris that clog carburetors, fuel injectors and fuel filters. Carbon buildup can form on the tops of pistons, causing pre-ignition, rough idling and poor throttle response.
Quickshot is a premium fuel additive formulated to thoroughly clean and restore peak performance in powersports equipment fuel systems. It also stabilizes fuel between uses and during short-term storage. Its revolutionary technology focuses on three major fuel-related issues plaguing these applications: ethanol, water and dirty pump gas.

AMSOIL Water-Resistant Grease
Resists water washout
Fights corrosion
AMSOIL Synthetic Water-Resistant Grease is formulated with extra-durable cohesive and adhesive chemistry. It holds together when exposed to water and clings tenaciously to metal surfaces when wet, protecting components during prolonged exposure to standing or pressurized water. It seals metal surfaces and chemically fights corrosion, making it ideal for applications with extensive exposure to water, mud, snow or ice.

AMSOIL Shock Therapy® Suspension Fluid
Consistent rebounds
Maximum stability and performance
Reduces wear and scuffing
AMSOIL Shock Therapy Suspension Fluid is formulated to make suspension systems more predictable. Its base oils have inherently high viscosity indices that effectively maintain viscosity, while its anti-foam agents reduce aeration and foam.
The constant friction within a shock body decreases suspension performance. AMSOIL Shock Therapy Suspension Fluid contains friction modifiers to reduce the energy loss caused by friction, while anti-wear agents are added to protect shocks and forks from premature wear.
*All trademarked names are the property of their respective owners and may be registered marks in some countries. No affiliation or endorsement claim, express or implied, is made by their use.