Shell* recently announced that a sample of "Mobil Delvac 1300* Super 15W-40 did not meet the passing limits for either API CK-4 performance standards, nor the more stringent requirements for Volvo*, MACK* and Cummins*." The 360-hour Volvo T-13 test measures both oxidation and Kinematic Viscosity, indicating an oil's ability to resist thermal and chemical breakdown and maintain its protective viscosity in the severe operating environments experienced by diesel engines. Oxidation resistance is critical in order to protect against oil thickening and deposit formation and extend engine life.
AMSOIL has earned the trust of diesel enthusiasts and people who depend on diesel power to make a living. We engineer our synthetic diesel oils to exceed minimum standards and outperform the competition. In independent laboratory testing, AMSOIL Signature Series Max-Duty Synthetic Diesel Oil passed the Volvo T-13 oil oxidation test with flying colors (see graphs below), and it provides 6X more engine protection1, keeping hard-working diesel engines on the road and on the job.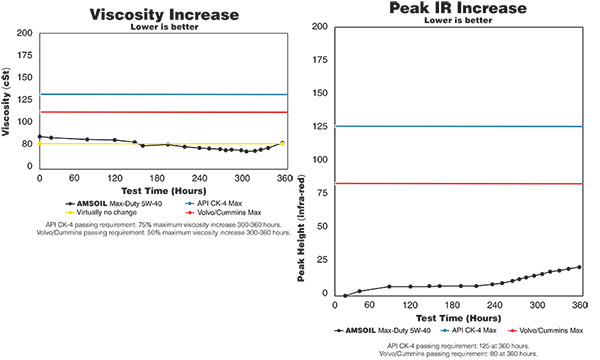 *All trademarked names are the property of their respective owners and may be registered marks in some countries. No affiliation or endorsement claim, express or implied, is made by their use.
1than required by the Detroit Diesel DD13 Scuffing Test for Specification DFS 93K222 using 5W-30 as worst-case representation.