Retired optometrist Frank Puckett, from Monument, Colo., received his first motorcycle in eighth grade, a Honda* Trail 90. He was instantly hooked. Fortunately, the Montana ranch where his family lived provided thousands of acres for riding.
After graduating to a Hodaka* Super Rat* and Hodaka Combat Wombat,* Puckett eventually took an interest in restoring old British bikes. He joined the British Motorcycle Association of Colorado (BMAC), and it was then that he started attending Bonneville Speed Week to race on the salt flats.
"The BMAC had a project bike that we raced out there and with which we took records," said Puckett, referring to a 2013 trip during which his son claimed a class record. The legendary salt flats whetted Puckett's appetite. "It's like most motorsports things; I should have never gone out there because I was hooked."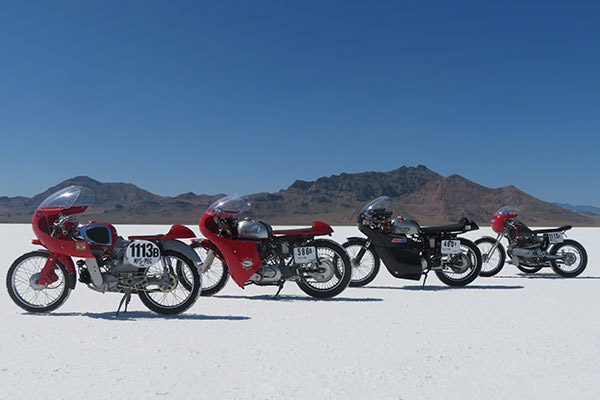 A bike-building passion begins
Puckett began building his own motorcycles, focusing on British bikes, like his 1971 Triumph* 250. The bike competes in the modified, pushrod, blown, partially streamlined class.
The class attracted Puckett due to his interest in British bikes and because setting records lies within reach of most competitors, unlike other classes that require a major financial investment to be competitive. "The records aren't so unattainable – and it doesn't take unobtainable dollars to do it," said Puckett.
The challenge, however, is finding a bike with a pushrod engine. "To give you an idea, Honda basically went to overhead cams in mid-1965," said Puckett. British bikes, however, retained pushrods into the 1970s.
Today, Puckett builds and runs bikes under Puckett LSR (Land-Speed Racing), which has amassed an impressive list of Bonneville Speed Week records. "Bikes I've built hold about 12 current records, not counting ones we've won and lost over the years," he said.
Triumph takes another Speed Week record
The latest record came at 2020 Speed Week when his Triumph set a class record of 81.04 mph. In all, the Triumph holds four current Bonneville Speed Week records.
Puckett credits AMSOIL products – and his AMSOIL Dealer, Ivan Anthony – with helping him achieve his success. "I started using AMSOIL in about 2017, and that's when I ran across Ivan," said Puckett. He runs DOMINATOR® 15W-50 Synthetic Racing Oil in the Triumph since the bike requires a higher-viscosity oil and due to the oil's high zinc content, which boosts wear protection.
"I'm running an old British Triumph to about 8,000 rpm, and so a lot of it is trying to keep it together because you have to realize that bike is 50 years old," said Puckett. Adding to the challenge, the bike runs 9-12 psi of boost, increasing cylinder pressure and stress.
As happy as Puckett was to see his Triumph capture another record, he was happier about the rider who piloted the bike that day: Dealer Ivan Anthony.
"He's been my right-hand man when we go out to Speed Week," said Puckett. Anthony provides support in several areas, including driving the chase vehicle and serving as crew chief. "My whole goal at Speed Week this year was to make sure he got to run one of my bikes to a record." And that he did.
AMSOIL disciple
Puckett also uses AMSOIL products in his other bikes, too, including 10W-40 Synthetic Metric Motorcycle Oil in a forced-induction Honda 100 that runs as high as 11,000 rpm. He also uses AMSOIL "all the way to the differential" in his 2001 Ford* F-250 with a 7.3L Power Stroke* engine. The truck hauls his bikes and supplies to the salt flats each year.
"I became an AMSOIL disciple thanks to Ivan," said Puckett. He loves the full range of products AMSOIL offers, in addition to the protection they provide his prized bikes. "I look to AMSOIL for the protection and lubrication. We've taken motors apart, and I've always been amazed at how well they've held up," he said.
Testimonials are the subjective experiences of our customers and are not intended to be construed as a guarantee that your results will be the same; individual results may vary.