Tom Weiland, of Richfield, Minn., has a broken oil pan to thank for his loyalty to AMSOIL products.
Weiland's father had grown up on a farm, and one of his jobs was driving a diesel truck out in the fields. "They used AMSOIL in their trucks, and one day he ran over something in the field that knocked off the oil pan," Weiland said. "And he drove the thing – a big, heavy-duty truck – all the way back to the plant with no oil." About 20 miles later, the engine was still running. Weiland was sold on AMSOIL protection.
100,000 annual miles
Today, he uses AMSOIL Signature Series 5W-20 Synthetic Motor Oil in his 2014 Ford* Flex,* which recently hit 350,000 miles (563,000 km). Weiland's primary job as a mechanical engineer and secondary gig as a Lyft driver require him to drive about 75,000 miles (120,700 km) annually in the Twin Cities metro area of Minneapolis/St. Paul. "This year because of COVID, they have me working from home, so I've been driving for Lyft more to stay busy, and it's more like 100,000 miles (160,900 km)," he said.
No repairs to oil-lubricated parts
After using another oil for the first few oil changes when the car was new, Weiland switched to AMSOIL synthetic motor oil and hasn't looked back. The engine hasn't required any repairs to anything the oil touches. "The engine has been fine; absolutely perfect," he said.
"Ridiculously clean" engine
A recent water-pump-seal failure caused Weiland to visit his mechanic at Leighton's Garage of Eden Prairie, Minn. When he opened the front of the engine to access the water pump, what he saw surprised him. "He took pictures to show me and said, 'This thing is ridiculously clean,'" said Weiland.
As the images show, the 3.5L six-cylinder engine contains virtually no deposits despite 350,000 miles (563,000 km) of severe-service city driving. The valvetrain area is clean and appears in excellent condition.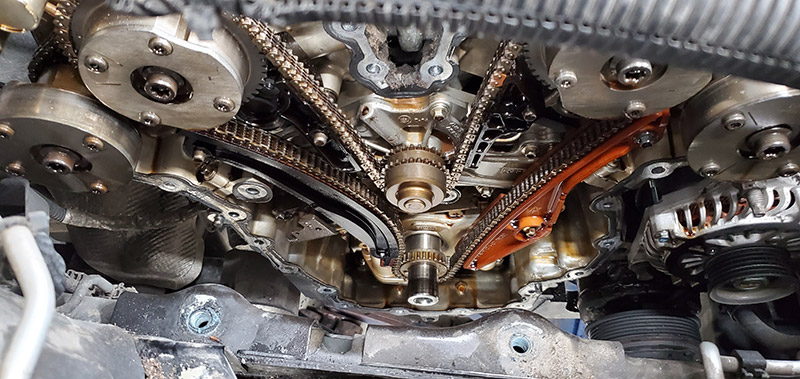 Signature Series kept the valvetrain area clean and deposit-free despite 350,000 miles (563,000 km) of severe-service city driving.
The engine was in such good shape that Weiland and his mechanic debated whether to change the timing chain since it was in such good condition. "Generally, any time you open up the engine like that, you replace the timing chain due to the labor involved," said Weiland. "We ended up doing that, but we talked about it for a while because, if you look at the chain up close, it looks brand new."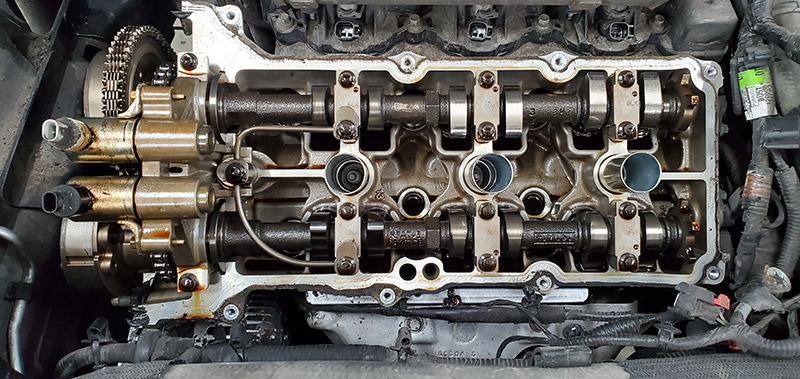 Weiland and his mechanic discussed whether to change the timing chain despite the high miles since it looked brand-new.
Customers can't believe the mileage
Weiland sometimes talks about the performance of AMSOIL products and his car's impressive mileage with his Lyft riders. "They can't believe it when I tell them. They think it has 70,000-80,000 miles (112,600-128,700 km) on it because I keep it perfectly spotless. But I say, 'Look for yourself; there's the odometer.'"
This is Weiland's fifth car and he's always used AMSOIL synthetic motor oil with great results. "It idles great; it starts up every time. It doesn't sound like it's not brand new. It's not loud or raspy or anything," he said. "I'm really happy with the product; I'll keep on using it."