Jacob Button, of Erin, Tenn., started racing flat karts as a young boy with his stepdad. It only took one race and he was hooked. "He was my best friend, not just my dad," said Button. "I had a blast spending time and making memories with him."
Today, Button, a municipal maintenance worker, races a Yamaha* YZ250 two-stroke outlaw wing kart, and he considers AMSOIL synthetic motor oil the top brand of all he has tried in his engines.
"I have used a lot of different oils since 2007 (when he started racing), and by far AMSOIL is the best," he said. Button uses DOMINATOR® Synthetic 2-Stroke Racing Oil (TDR) in his 45-hp, two-stroke 250, and he loves the oil's resistance to chemical breakdown and cleanliness properties. "It keeps our engine clean, and with a clean engine, everyone knows your motor will last longer," he said. Button also says the oil helps his karting engine run smoother.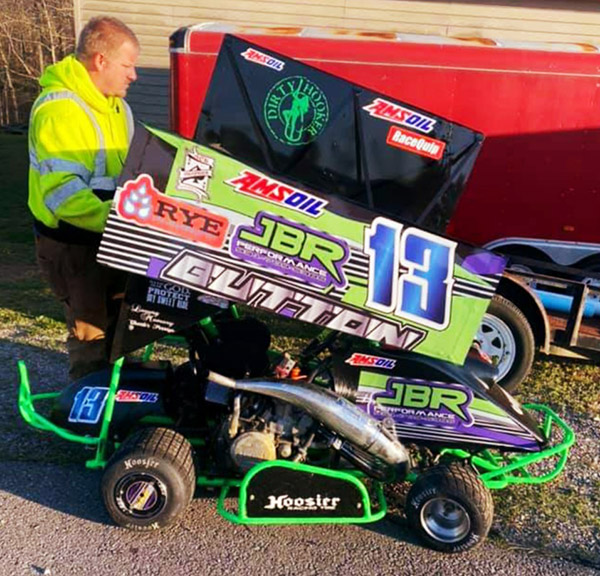 Button's racing pursuits hit a snag in 2009 after his stepdad passed away. "It put a hurting on me so bad that I stopped racing for one year," he said. Ultimately, however, he returned to the driver's seat to preserve the memories he made with his stepdad and continue to pursue his dreams. "Here I came, stronger and ready to race," said Button. "Heck, I put it in victory lane the first night out!"
Button, whose resume includes two championships, has been racing outlaw wing karts for several months now and won't use anything but AMSOIL synthetic motor oil to protect his prized kart. The oil proved itself firsthand following an accident when he had to open the engine for repairs and refreshing. "Every part in it looked good as new," he said.
Not only does Button use AMSOIL synthetic motor oil in his kart, he also loves Mudslinger® (AMS), Chain Lube (ACL) and DOMINATOR® Synthetic Racing Oil for four-stroke engines. He credits AMSOIL Direct Jobbers Kevin and Dianne Alexander, of Claremore, Okla., for introducing him to AMSOIL products and helping him identify the right products for his vehicles.
"I just want to race and make my memories go on forever," said Button. "With AMSOIL, I trust that it will happen. Thanks, AMSOIL, for all your help. Your products are helping me reach my dreams."