Let me end the suspense – there is no magic bullet when it comes to vehicle maintenance. Keeping your engine in top form requires more than one tool in your toolbox. Enter the one-two punch of AMSOIL P.i. Performance Improver and Upper Cylinder Lubricant.
Consider your pearly whites for a moment. To avoid a painful situation, you make the pilgrimage to the dentist's chair a couple times a year and brush your teeth as much as possible between visits. Cut out half that equation and you're asking for trouble.
Inside your engine, P.i plays the role of dentist – the deep clean. Upper Cylinder Lube is your daily brushing – the keep clean. It's a comprehensive strategy that helps keep your engine running smoothly.
What's the problem?
P.i and Upper Cylinder Lube work in tandem to address common issues many drivers encounter.
Decreased fuel economy
Increased exhaust emissions
Power loss
Poor starting and rough idle
Pre-ignition "knock" or "pinging"
P.i hits these issues head-on with concentrated detergents that aggressively clean stubborn, power-robbing deposits. Upper Cylinder Lubricant preserves and builds upon those gains. It maintains cleanliness (particularly the all-important fuel injectors), pinpoints the sparsely lubricated top-end and fights ethanol-related corrosion.
Two steps for a clean and protected engine
Step 1 – Deep clean with P.i. Performance Improver every 4,000 miles
Cleans fuel injectors, intake valves and combustion-chamber deposits
Reduces emissions and increases fuel economy up to 5.7 percent¹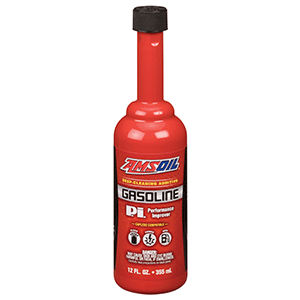 Step 2 – Keep clean with Upper Cylinder Lubricant in every tank
Lubricates upper cylinders to fight wear
Inhibits ethanol-related corrosion
Keeps injectors clean
Delivers 18 percent more lubricity than Lucas² and 20 percent more than Sea Foam² for better retention of horsepower and fuel economy
Any questions?
Can I use both P.i. and Upper Cylinder Lubricant at the same time? Yes. Both products can be used together in one tank of gasoline.
How frequently should I use P.i. and Upper Cylinder Lubricant? P.i. should be used every 4,000 miles as a deep-clean. Upper Cylinder Lubricant can be used every fill-up.
Do I need to use P.i. and Upper Cylinder Lube if my vehicle is new? We recommend using AMSOIL gasoline additives throughout the life of your vehicle to preserve like-new power and efficiency.
If you choose to use gasoline additives, consider the dynamic duo of P.i and Upper Cylinder Lube. Unlike competing fuel additives, this combo works.
¹ Based on independent testing using EPA tests: Federal Test Procedure 75 (FTP), Supplemental Federal Test Procedure (US06), and the Highway Fuel Economy Test (HFET). Average fuel mileage increase of 2.3 percent.
² Based on independent testing of AMSOIL Upper Cylinder Lubricant, Lucas Upper Cylinder Lubricant and Sea Foam Motor Treatment obtained on 02/13/2019 using the ASTM D6079 modified for use with gasoline.