The automotive enthusiast who builds a high-horsepower, street-legal car commonly uses it for autocross, track days, drag racing, and/or occasional weekend drives. You need to show off your work, right?
AMSOIL set out to build a 1,000-horsepower supercharged LS engine that can consistently perform well anywhere, while remaining dependable as a daily driver.
Design mandates
They say if you do multiple things, you don't do anything well. A high-performance, street-legal engine needs to perform flawlessly when racing and still get you home after the checkered flag. So, do you simply target 1,000 hp, or do you want something more robust?
Our way of thinking is that owners want to do as much driving and as little maintenance as possible. So, we estimated how many visits the average driver might make to the track in one year.
We calculated annual drive time on the engine at 25 hours, then ran the engine the same number of hours under power profiles designed to simulate a season of drag racing, autocross and light road use.
The biggest self-imposed restriction in building this 1,000 hp LS V-8 engine was the ability to run it on 91-octane pump fuel, available at any roadside gas station. The design focused on areas of the powerband that could become problematic with standard fuel.
Since AMSOIL is not in the business of testing engine parts, hitting these goals was never an absolute certainty. We were simply aiming for a reliable engine that would make a consistent 1,000 hp using AMSOIL products.
Selecting parts
AMSOIL Mechanical Lab Engineer, Chris Orr, helped set up the AMSOIL dyno testing lab in 2012 and was called upon to assemble our custom LS engine. Our team produced a complete aftermarket design using individually selected components, rather than choosing a crate engine.
The LS wasn't a platform that we were familiar with, so parts selection was based on personal experience with manufacturers that provide quality parts known to hold up in high-performance applications.
The engine was designed around mandates of reliability and consistent performance, and not on outside support. We selected parts early in the process and then asked certain vendors if they were interested in participating, but none of the parts were sponsored. Some vendors offered modest discounts, but more importantly, many of them offered invaluable advice and support.
Challenges arise when you take 40 different aftermarket parts and assemble them into one engine. It's not just bolting pieces together; it's a fully aftermarket assembly with a precise tolerance stack throughout. You must look at the whole thing as a system. Thankfully, it all went together flawlessly.
An ultra-efficient supercharger was included in the build, which also adds additional stress to key engine components, specifically the bearings.
Dry Sump
This engine build is not easy on oil, which is good because we wanted to push our oil to its limits. Because LS engines may exhibit oiling cavitation and aeration limitations in the standard oil pump, we decided to dry sump the LS to provide better oiling to the engine throughout.
The dry sump provides less air-entrained oil to critical components such as the camshaft and main and rod bearings under high horsepower, rpm and cylinder pressure, and allows for precision valve control.
The testing produced temperatures and pressures designed to break the oil. For instance, you don't want temperatures over 200°F (93°C) during the break-in process, but the engine quickly exceeded that and would have screamed right past 300°F (149° C) (NASCAR* level) and kept going if left unmonitored.
Results
It took about a year to build, and thanks to smart design the engine achieved its targeted 1,000 hp goal and remained extremely healthy throughout testing. There are trade-offs when building a premium engine. You can change various properties, but it doesn't always help, and can even be detrimental.
The engine netted a little less than its maximum potential power because it has conservative timing. This is an expected compromise when attempting to make an engine dependable rather than wringing every bit of performance out of it.
The LS could make more power with better cams, fuel and timing, but it provides peace of mind knowing that this conservative and reliable engine consistently makes 1,000 hp without imploding.
The engine delivered on all expectations and ran extremely consistently. You can stack the dyno runs on a chart and it looks like one big, thick line. That's an exceptional attribute, because moonshots and big power numbers are cool, but repeatable horsepower and reliability are more important in the real world where constant engine rebuilds are not an option.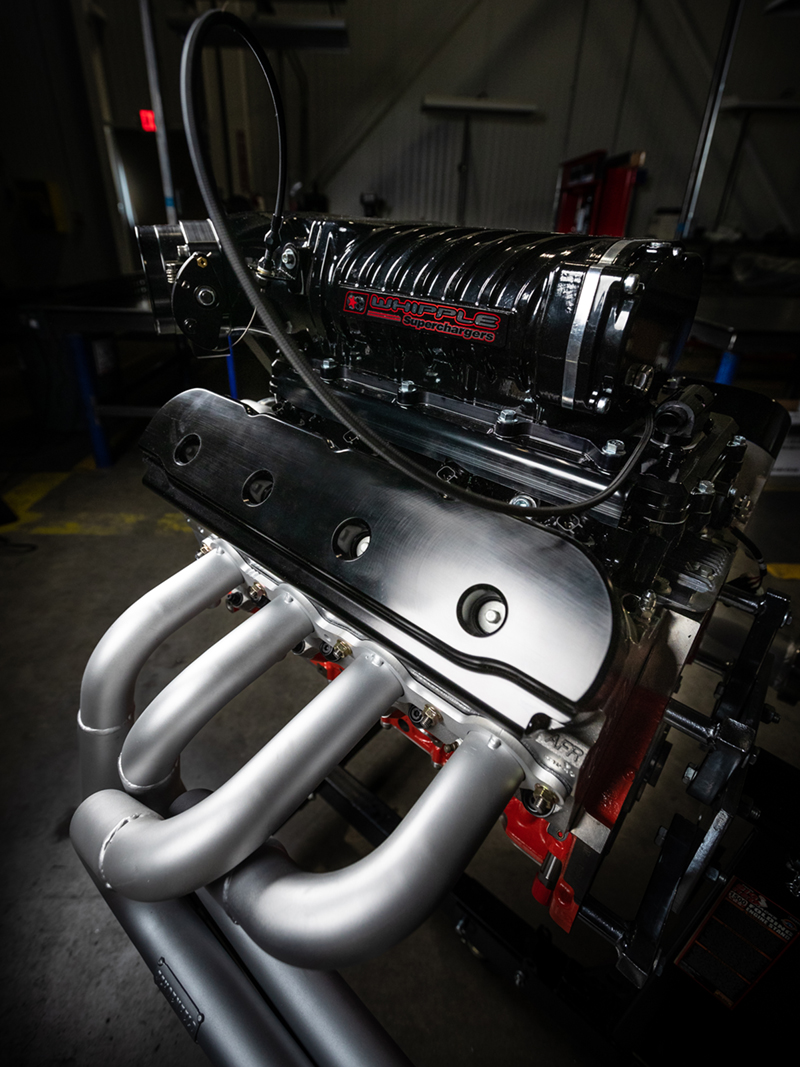 Specifications
Builder:
Chris Orr, AMSOIL INC.
Machine Shop:
Line Performance
Engine Block:
GM* Performance LSX 376 B15 iron block
Displacement:
415 cubic inches (6.8 liter)
Bore x Stroke:
4.065 x 4 (square for power)
Crankshaft:
Molnar* 4-inch stroke, 58-tooth reluctor, FCW billet
Bearings:
Clevitte*
Rods:
Molnar LS 6.125 power adder
Pistons & Rings:
J&E* forged and dished to prevent LSPI on boosted pump gas
Oil Pump & Pan:
Dailey* LS 3-stage dry sump
Timing Set:
Rollmaster*
Cylinder Heads:
AFR* 260cc 12deg Mongoose 6-bolt
Port Work:
Out of the box
Valves:
Manley* SS 2.165 intake, 1.600 exhaust
Valve Springs:
Manley springs, tool steel retainers, locks
Camshaft:
Bullet* Racing Cams Solid Roller
Lifters:
Jesel* GM LS1 .937-inch body
Rockers:
Jesel AFR LS3 Mongoose 1.70/1.70 shaft
Pushrods:
Trend* 3/8-inch diameter, 1.35 wall
EFI System:
Holley* Dominator
Injectors:
FIC* 127#
Throttle Body:
Whipple* 109mm
Intake Manifold:
Whipple
Headers:
Schoenfeld* dyno/sprint car type
Power Adder:
Whipple 3.0-liter supercharger
(99% volumetric efficiency)
Ignition System:
Holley* 'Big Coil' system
Fuel System:
Aeromotive* variable-speed fuel pump
Fuel Type:
91 octane
Horsepower/Torque:
1,022.61 hp STPPwr @ 7,110 rpm
851.06 lb.-ft. STPTrq @ 4,476 rpm
Dyno:
SuperFlow 902S, AMSOIL INC.
Click the link below for more details on our 1,000-horsepower LS part selection.