Sometimes a business endeavor successfully takes off without elaborate plans. About 12 years ago, AMSOIL Preferred Customer Dan Amidon purchased a push mower, backpack blower and string trimmer for his son, Alex, to earn extra money for college and a car. It paid off, and Amidon's other children saw an opportunity worth pursuing themselves.
After Alex headed to college, his brother, Noah, took over the business with the same goals and began developing a larger client base. To meet the increased demand, they purchased a couple more lawn mowers and trimmers and another backpack blower. When Noah left for college, it was Aaron's turn to run the business, and now George, Annie and Patrick have followed suit.
The young Amidons found themselves running an established landscaping business that had grown to an entire fleet, servicing 25 residential and three commercial properties. They own multiple brands of equipment, including Honda,* Billy Goat,* Husqvarna,* Stihl,* Cub Cadet* and Gravely.*
The older Amidon siblings have since paid for their cars and a large part of their college tuition with their proceeds. George, Annie and Patrick are currently running the business and maintaining the accounts as they continue their education.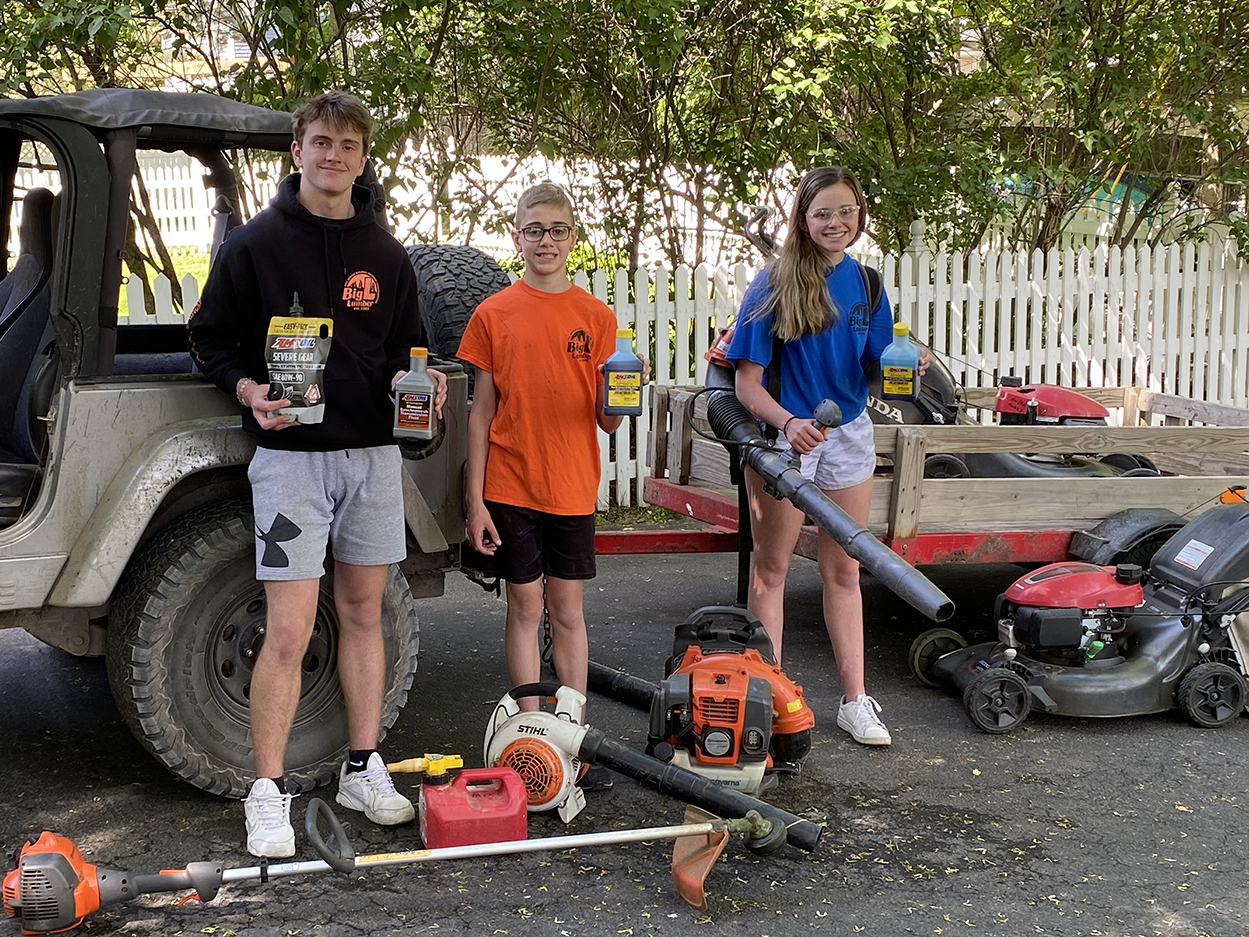 Dan Amidon shared a story about how AMSOIL products played a role in the success of his family's landscaping business after screen-plugging problems arose on their trimmers and blowers. Amidon noticed a thick, black, tar-like substance within the piston grooves that caused the rings to stick and prevented them from expanding correctly. After some research, Amidon decided to try a high-quality two-stroke oil mix, which led him to AMSOIL SABER® Professional Synthetic 2-Stroke Oil.
Within a couple weeks, they noticed their machines were running better with higher rev and less smoke. Now six years into running AMSOIL SABER Professional exclusively in all their two-stroke equipment, they have not faced any fuel or engine issues.
"The boys mix it 80:1 and now we only need to have one mix can for all equipment," said Amidon. "Sure, the stuff costs more, but you use so little of it, a bottle or two will last the entire year. Plus, did I mention, no issues at all since we started using it. None! We don't even have to winterize the equipment anymore!"